mike6432

Member

Registered: 2017-11-22

Posts: 4
][GS Power Supply Popped and awful, awful, burnt coffee smell
Hi. I'm sitting there with my machine one and all of a sudden I hear a pop or crack then this horrid smell takes over the room. My fear realized, it's the computer. I eventually opened the power supply and discovered it's certainly that.
I did some research but I figure I'd post pictures and see if someone knows what exact part went and if replaceable? If, by the time I buy a new soldering iron and replacement parts, it would cost me more than $50, I'd just buy a replacement PSU (realizing that eventually I'll need to get a new soldering iron anyways, I just don't want to right now).
It's the Dyna Comp Corp model (699-0126). It doesn't appear to be the typical capacitors that go on this unit. I noticed also on the upper part of the case that I removed, there's a yellowish chemical. It must have really popped. All the other capacitors appear OK on here. It would appear it's one of the yellows blocks.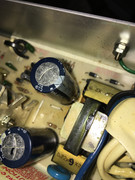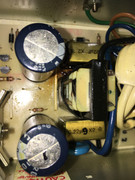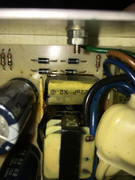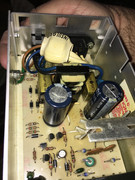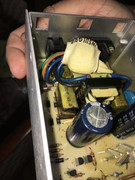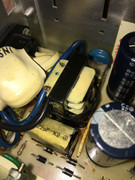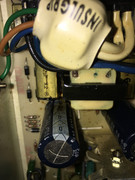 French

Member

Registered: 2017-06-17

Posts: 20
Re: ][GS Power Supply Popped and awful, awful, burnt coffee smell
It's not a big deal, apart from the smoke and smell it's quite common.
Replace those with modern units of the same values (0,22 uf 275 VAC  X2 safety capacitors) and you will be good to go again.
https://www.ebay.com/itm/0-22-uF-275VAC … 1765859738  ...just a clue, you can find those almost everywhere.
Cosmo

Member

From: Vantaa, Finland

Registered: 2014-05-25

Posts: 134
Re: ][GS Power Supply Popped and awful, awful, burnt coffee smell
Or just get the Universal Powersupply (kit or ready drop-in) reactivemicro.com ?