After 5 years serving the vintage Apple enthusiast community, ThinkClassic has been marked for closure and is now in caretaker mode. Please see
this thread
for further information. Please direct any questions, comments and enquiries about the website, management and ownership to
this thread
.
Theclassic

Member

Registered: 2017-10-09

Posts: 23
My Macintosh SE has a hard drive issue
I recently purchased a Macintosh SE off eBay for $70. Everything works perfectly on it, except for one thing. The hard drive. I put a hard-drive from my previous SE that blew up on me in the one I just bought. I kind of want to see what's on the hard drive that shipped with it though. When I turn on the SE, it boots to the Happy Mac logo, and won't go past that. A little motor on the side keeps spinning and making noise. I know that the happy Mac logo is at least a good sign. Any help? I'll add pics. The picture is of the motor I was talking about.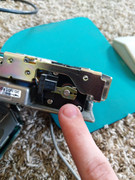 Last edited by Theclassic (2018-09-15 18:31:41)
mcdermd

Member

From: Corvallis, OR

Registered: 2014-05-12

Posts: 1,022
Re: My Macintosh SE has a hard drive issue
If it doesn't recognize the drive, you blow out that optical sensor that the arm rotates through then turn the arm 90° and give it a try. That arm moves the heads across the disk platters.
If it is seeing the drive but stops during boot, it probably has a bad or weak sector (or several) on the disk. You'll probably have to reformat and reinstall System/MacOS software.
---
Daily Drivers: 27" iMac 2.8 GHz Quad-Core i7 (Late 2009), 21.5" iMac 2.7GHz Quad-Core i5 (Late 2013), 11" Macbook Air 1.6 GHz i5 (Mid-2011)
See the restored heroes here.