After 5 years serving the vintage Apple enthusiast community, ThinkClassic has been marked for closure and is now in caretaker mode. Please see
this thread
for further information. Please direct any questions, comments and enquiries about the website, management and ownership to
this thread
.
steve30

Member

From: Rotherhan, England

Registered: 2017-12-03

Posts: 5
PowerBook 1400c Clock and IDE faults
A few years ago my PowerBook 1400c started playing up.
Firstly, it won't recognise any devices on the IDE port. This means I have to boot it from a CF card in the PCMCIA slot. I've tried with several disks and can confirm that its the port, and not the disks.
Secondly, it has weird date and time issues. Strange characters show up in the date/time fields, as shown in the screenshots. If you attempt to change it in the control panel, it crashes the whole machine, requiring a reboot.
The machine doesn't have either a PRAM battery or a main battery so it is not a battery related problem.
Does anyone have any ideas? I'm pretty sure these faults started quite suddenly, but it has been like this for about 5 years. I haven't really bothered to do anything about it as I don't really use this machine any more, but it would be nice to have it working again.
Thanks
steve30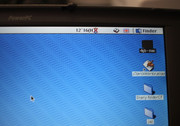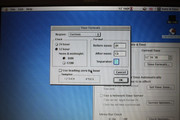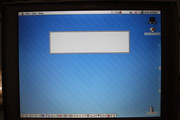 Mk.558

Member

Registered: 2014-07-08

Posts: 168
Re: PowerBook 1400c Clock and IDE faults
I can only think of bad motherboard or RAM.