After 5 years serving the vintage Apple enthusiast community, ThinkClassic has been marked for closure and is now in caretaker mode. Please see
this thread
for further information. Please direct any questions, comments and enquiries about the website, management and ownership to
this thread
.
800/840av/8100/8500/9500 drive bezels
I've been screwing around with measuring and attempting to model a floppy drive bezel based on my broken one (all the tabs are broken off, so I'm kind of guessing based on the broken posts):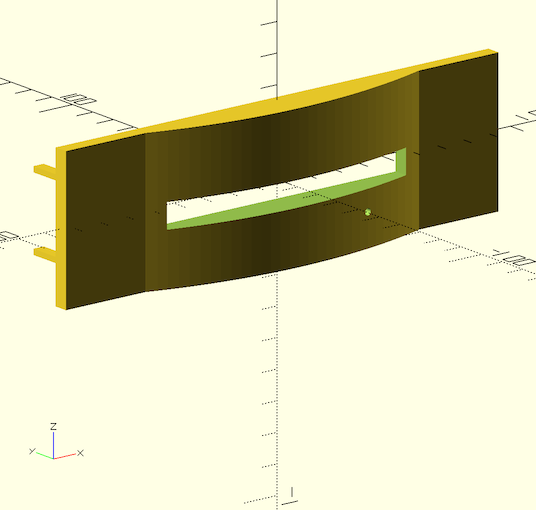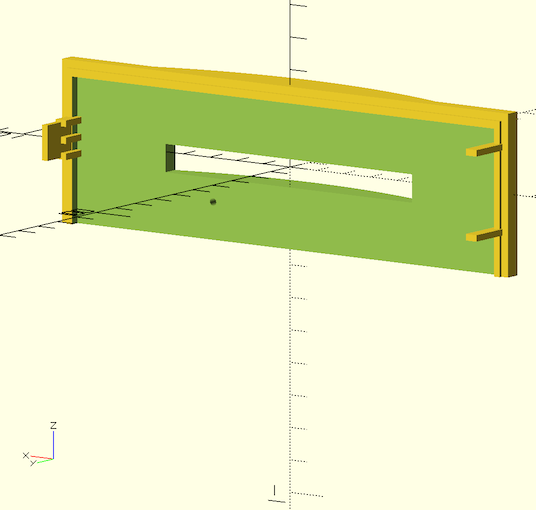 floppybezel.scad
This was mainly an exercise to familiarize myself with the problem.  After measuring, I'm pretty sure printing one of these in my printer isn't practical, at least not as one piece.  Even if I could figure out some angle to print it at, it'd be super tall, and printing speed is primarily limited by height, so each iteration would take forever, and the taller it is, the higher the chances for a print failure.  But, like I said, mainly a thought exercise.
First problem with the model is the bezel curves are difficult to represent in parametric cad.  What I've done here is an approximation of a part of a cylinder, which isn't very accurate and won't line up with other bezels and the case.  Similarly, the floppy "mouth" curve is tough to get right, and I haven't even attempted it.
Second, print material is never going to match the color of the case.  A printed bezel is pretty much going to need painting to match, which isn't that great a solution.
I'm kind of thinking a hybrid approach might be worth considering.  Print the frame that latches in place, but cast the outer visible bezel, then glue or otherwise attach the two together for mounting.  If the outer bezel is rigid, the frame could be printed in 2 parts, which would make each small enough to fit the printer, and then attach each side to the outer bezel.
MJ, does the casting of the outer shell sound reasonable to you?
mcdermd

Member

From: Corvallis, OR

Registered: 2014-05-12

Posts: 1,022
Re: 800/840av/8100/8500/9500 drive bezels
If anyone needs to borrow original parts to replicate, I can probably provide them. I have four of the five models listed.
---
Daily Drivers: 27" iMac 2.8 GHz Quad-Core i7 (Late 2009), 21.5" iMac 2.7GHz Quad-Core i5 (Late 2013), 11" Macbook Air 1.6 GHz i5 (Mid-2011)
See the restored heroes here.
MJ313

Member

Registered: 2014-09-23

Posts: 498
Re: 800/840av/8100/8500/9500 drive bezels
I am not ignoring you, I just saw this and will ponder the questions posed.
Re: 800/840av/8100/8500/9500 drive bezels
No problem, it's been a busy weekend here.  I don't mean to sign you up for anything either, just curious for what you think. 
MJ313

Member

Registered: 2014-09-23

Posts: 498
Re: 800/840av/8100/8500/9500 drive bezels
I certainly think it's possible with a flexible casting resin for the bezel front, which could be adhered in some way to a printed frame. What's exciting is that the texture would be easily copied and some shade of beige could be reproduced with dyes.
Now... there's a big difference between what's possible and what's reasonable from a cost/benefit perspective. I don't know what the cost of frame printing would be, but doing any kind of casting for the bezel face would require at least a two-part mold which is more complex and time consuming to create and get right... It's one of those if someone really absolutely had to have one, yeah we could do it. It would be costly for everyone involved.  Doing anything more than a handful of expensive one-offs, well, it might be better to go with good old abs.
Last edited by MJ313 (2015-08-10 01:55:08)
Re: 800/840av/8100/8500/9500 drive bezels
The original drive bezels are "hollow", in the sense that they maintain the same thickness through the outward curve, and have some supports inside to help maintain rigidity.  I'm assuming the two-part mold is required to duplicate that.  I was thinking that if the bezel were solid and just had a flat back it would be easier to make the mold, and would have a solid flat surface to attach a mounting frame.  It would end up being substantially heavier than the originals, but should still look more or less original when mounted.
MJ313

Member

Registered: 2014-09-23

Posts: 498
Re: 800/840av/8100/8500/9500 drive bezels
OK, I kind of see what you are saying. I was looking at your second diagram and it looks like the frame inserts into the outer bezel shell? I will take a look at my 8500 cd bezel tonight. Unfortunately it's adhered rather solidly to my 8500 so I have no clue what the insides look like. I do have a 7100 cd bezel loose in my junk tub so I'll check that out as well. Casting with a solid back to the the bezel frame would require more material and also the buildup of some passthrough channels for the paperclip as well as floppy disk I would think, if there aren't any right now. The CD bezel has the eject button and flexible eject button arm, so things get more complex there. A solid face replacement would probably be the easiest to do... yet, probably the least desirable.
Re: 800/840av/8100/8500/9500 drive bezels
Before you tear apart your 8500 (and all the associated plastic damage that comes with even looking at those things!) I took some pictures of the floppy bezel I was looking at: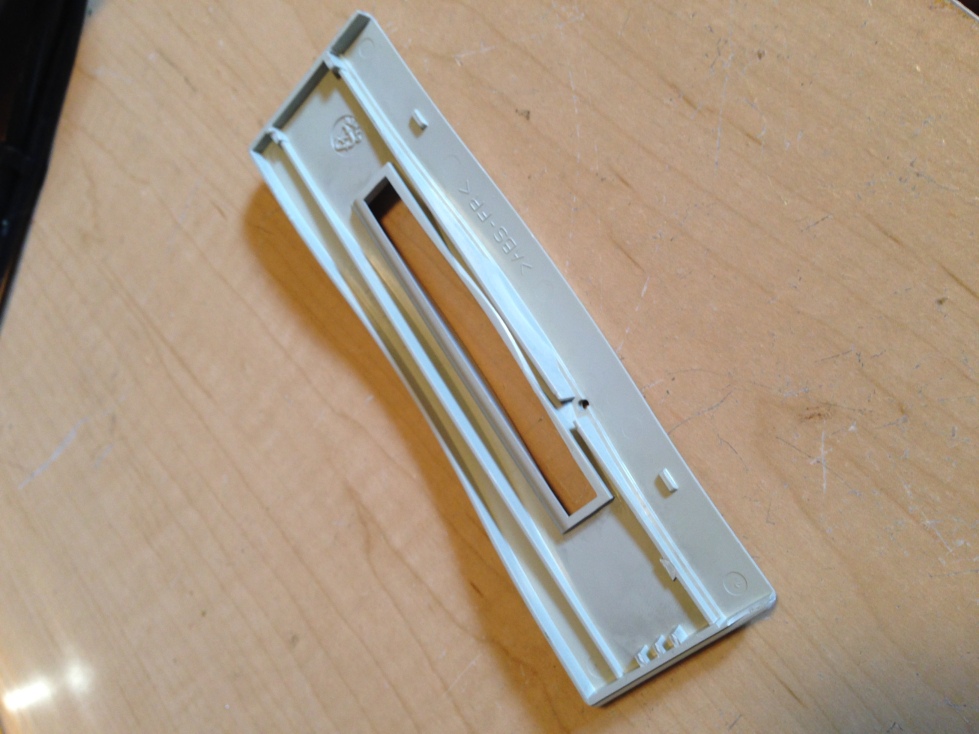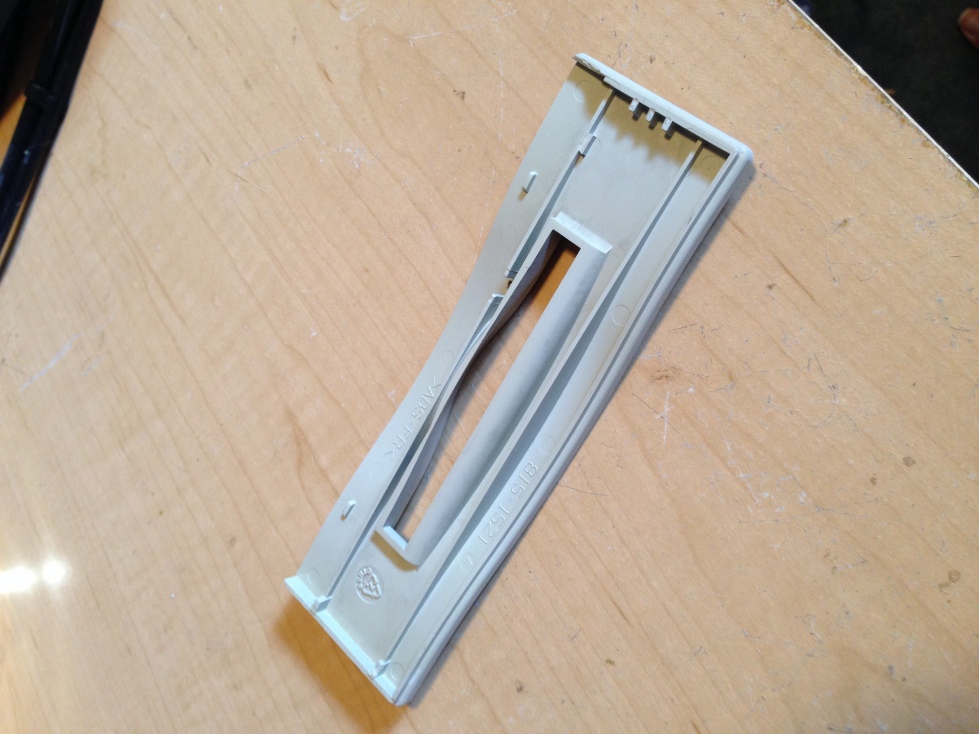 So with the floppy one I was thinking it wouldn't really matter much if the bezel were solid.  Unfortunately, not so much.  The case its self is curved, and the bezel mates against the curved surface.  Here's a picture of the top of the case demonstrating where the bezel mates to the case: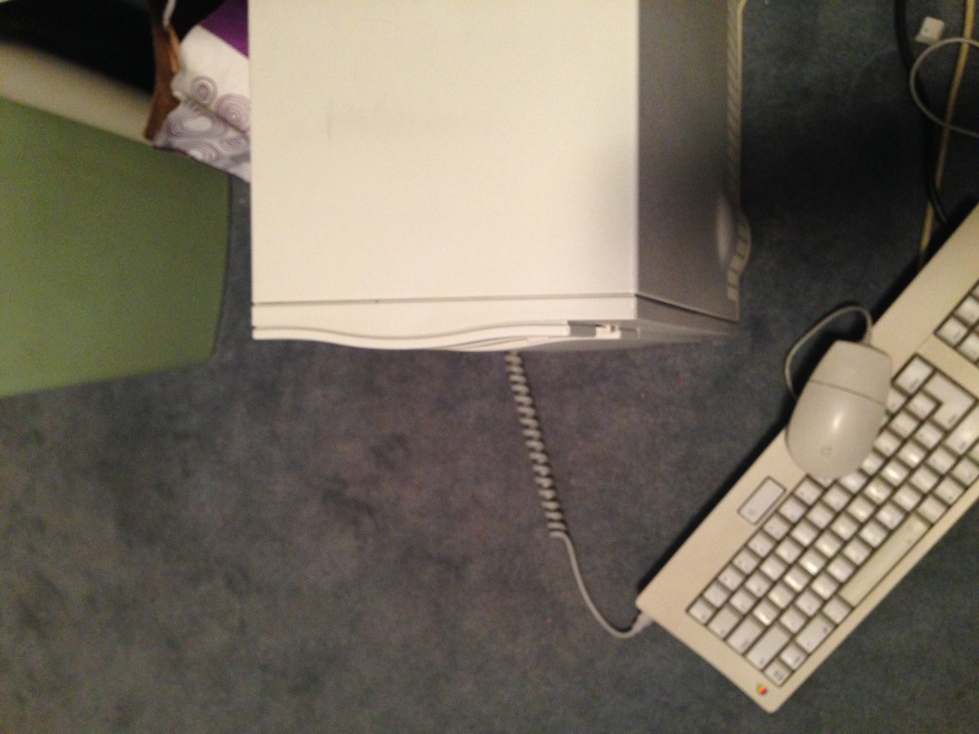 So I guess my idea of a solid, flat backed bezel isn't that great. 
MJ313

Member

Registered: 2014-09-23

Posts: 498
Re: 800/840av/8100/8500/9500 drive bezels
I'm wondering if we are trying to solve a problem that we don't necessarily have to... I mean, re-creating the entire bezel would be cool for people who don't have the bezel... but it seems like maybe the bigger issue is those stupid tabs that break off?
Back when I was dealing with my humptydumpty 8500, I wound up rebuilding the power actuator with some styrene and epoxy. Creating new flexible clips that adhere to an old existing bezel might be a way forward that uses those old bezels that probably still have some life left in them?
Last edited by MJ313 (2020-05-30 20:26:41)
Re: 800/840av/8100/8500/9500 drive bezels
New clips might not be as sexy, but might be more practical.  Instead of having a new face plate attach to a mounting frame, just have a mounting frame for the old face plate.  I'll see what I can come up with as far as models for that.
jt

Member

From: Bermuda Triangle, NC USA

Registered: 2014-05-21

Posts: 1,470
Re: 800/840av/8100/8500/9500 drive bezels
That's sounding like a plan. As a sheet metal lovin' guy, I'm beginning to wonder how many of these pestiferous clips and tabs can be fabbed with returns that can be epoxied to the back of the bezels?